New Westminster Salmonbellies Lacrosse Club – Press Release
Bellies land Big Fish- (New WestminsterBC)  New Westminster Salmonbellies President and GM Dan Richardson today announced the acquisition of two time Minto Cup Champion from the Whitby Warriors Goaltender Alexis Buque. This culminates a 7 month journey, from when we first saw Alexis dominate in last years Minto Cup at Queens Park Arena, where he arguably should have been the tournament MVP.
The week after the Minto we contacted Alexis and started the process and have got to learn a lot about this young man, he is a fierce competitor and he said from the first time we spoke how much he wanted to come back to New Westminster and the wooden floor.  We believe with Alexis and Neil Tyacke that gives us a great young Goaltending Duo to move forward with our organization.
We have had a plan since our season ended to retool our program and part of that retooling was our Goaltending Duo, and with the addition of Reid Reinholdt,  Sean Lundstrom and Brendan Ranford via the draft and now Alexis Buque, the Salmonbellies Coaching staff are excited about the 2014 season.
Buque is a great ball stopper with a fantastic stick, which local lacrosse fans saw first hand during last years Minto. The run and gun upbeat transition style that Coach Goodwin has implemented is very similar to that of the Whitby Warriors up tempo offence.
Buque says "I have always been a goaltender  from a young age, I enjoy the pressure of being the clutch guy to make the big saves and make the long pinpoint passes. My lacrosse Idol growing up was Toronto Rock Tender Bob Watson who had a dominant style and won many championships."
Salmonbellies fans will have their first chance to see  Alexis and his new teammates at the 125TH Anniversary home opener May 22nd vs the Langley Thunder.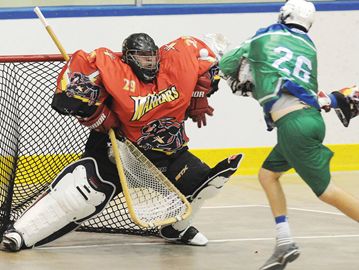 Season tickets available for $85.00 for adults $60.00 for Seniors or Students at www.salmonbellies.com   - Like us on Facebook and follow us on Twitter  @Salmonbellies